Redesigned Master Bedrooms Reveal Color, Pattern, or Calm
These master bedrooms ideas from Sweeten renovators showcase unique design trends that produce a serene space
While most home renovations focus on the kitchen and bath, the bedroom is arguably just as important. Although bedrooms are key spaces for retreating from the stress of everyday life, they're often deprioritized during renovations. Updating a master bedroom—even with simple refreshes—can have an outsize impact on how we enjoy our homes.
If you're seeking master bedroom ideas to guide your design dreams, look no further! These Sweeten renovators turned the spotlight on their own master bedrooms, using unique design approaches to refresh their favorite space in the house.
Sweeten matches residential renovation projects with vetted general contractors, offering know-how, support, and up to $50,000 in renovation financial protection—for free.
Hollywood star's much-needed nook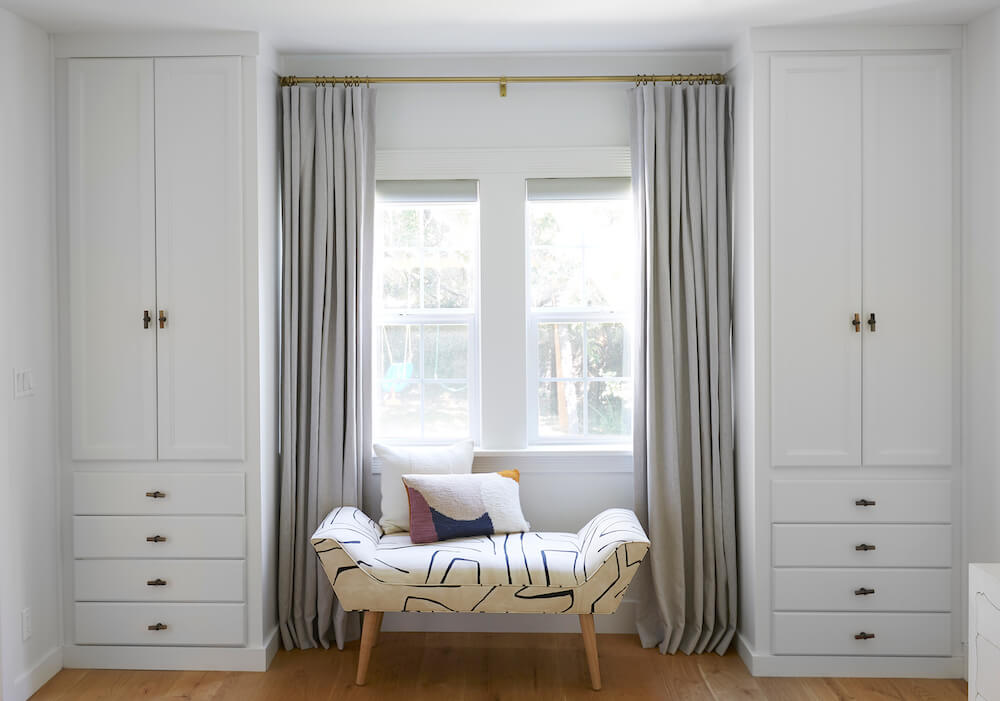 Dreaming of a special, cozy place to call your own? If you have the room and your space is configured correctly, consider adding a reading nook. They are great places to allow you to relax and unwind. Plus, they look beautiful as well. For Little Fires Everywhere actress Jaime Ray Newman, a geometric-patterned bench provided not only a nice nook but a statement piece in her master bedroom. With natural sunlight beaming through and luxurious curtains, who wouldn't want to curl up with a good book and spend a relaxing afternoon?
Bedroom accent walls draw the eye
Above): Blue paneling as a bedroom accent wall
Above): A custom mural as a bedroom accent wall
Making a bold design statement is always an in-vogue idea in any master bedroom. A statement or accent wall has been around for a while—and they are not going anywhere. You can add an accent color with paint. Or, take it up a notch with a paneling.  Sweeten renovators Mitzie and Jenifer decided on blue paneling to give the room depth and character. The wall also turned attention away from existing buildouts in each corner of the room and a recessed area that could not be reconfigured.  Also, in case you were wondering, the contractor used satin-finish paint to make the wall pop even more.
And yet another Sweeten renovator decided to add an accent wall—a customized one. An artist, Katy decided to use her creativity in the design. She painted a bold, black-and-white brush-stroke mural behind the bed. "Seeing my murals and paintings transform the house has been incredible," she said.
Built-in shelves flank the bed
Built-ins are not just for the library or living room. Including built-in shelves to a master bedroom not only helps with storage but adds a point of interest. In the master bedroom above, homeowners Kusum and David asked their Sweeten contractor to install custom built-ins since they were limited on space. They decided on open shelving with a drawer at the bottom in order to maximize the storage potential. In addition, the odd-shaped room also called for a built-in dresser to utilize every nook and cranny.
Wall-to-wall wallpaper

Wallpaper is an easy way to elevate the design of any master bedroom. The key to picking the right one really lies in your personal aesthetic. Overall, stay true to your style, whether that's bold or more subtle. Another approach to consider is selecting textured wallpaper, which adds a sense of movement and purpose. This Sweeten renovator (above) went for a hemp-textured wallpaper. Specifically:  Bermuda Hemp in Elephant #5260 from Phillip Jeffries.  No matter which paper you choose, keep true to your design aesthetic and you won't go wrong.
Minimalist master bedrooms go clean and simple

Above) Whitney's minimalist bedroom
Above) Kirsty's master bedroom
Sometimes keeping it simple is best. That usually translates to neutral colors, minimal furniture, and little ornamentation on the walls. Another bonus of the less-is-more approach: having a space that is mostly clutter-free can make you calm and more relaxed. Ultimately, that's just what a bedroom should be—a serene, inviting space. For Sweeten renovator Whitney, that was exactly her vision. She chose light wood flooring that appears to reflect the incoming sunlight, having an illuminating effect on the bedroom. White walls are accented by a black window frame. Art is leaned up against the wall instead of hung. And little furniture works to make the space more open. This master bedroom is just the right combination of minimalism and style.
Sweeten renovator Kirsty had the same idea: minimal all the way. When she redid her house in Los Angeles, she, too, wanted a clean aesthetic, especially for her bedroom. She achieved this through natural wood doors and headboard as well as little to no furniture in the room. She used artwork to draw the eye in but it is also in neutral tones and hues.
—
Looking for more renovation inspiration? Check out home office ideas.
Sweeten handpicks the best general contractors to match each project's location, budget, scope, and style. Follow the blog, Sweeten Stories, for renovation ideas and inspiration and when you're ready to renovate, start your renovation with Sweeten
The post Redesigned Master Bedrooms Reveal Color, Pattern, or Calm appeared first on Sweeten.
Did you miss our previous article…
https://www.healthyhomewisconsin.com/?p=454