My Sweeten Story: A Loft-like Garage in LA Brightens Up
This garage remodel in Los Angeles increased the home's square footage by nearly 40 percent
"After" photos by Luminous Vision for Sweeten
Homeowners: Saima and Tom, two UCLA administrators, found their general contractor by posting their garage remodel in Los Angeles on SweetenWhere: LA County in Inglewood, CaliforniaPrimary renovation: A freestanding two-car garage converts to live-work square-footage with storage and an electric car charging outletSweeten general contractorSweeten's role:Sweeten matches home renovators with vetted general contractors, offering input, support, and up to $50,000 in renovation financial protection—for free.Written in partnership with homeowner Saima
n old Los Angeles garage finds new use
We'd been living in our house for about three years when we started the garage remodel. The home, built in 1936 and located in Inglewood, a suburb of Los Angeles, is a bungalow-style cottage. The most recent appraisal said it comprised 690 square feet; the unattached garage added an additional 260 square feet of "unofficial" usable space. In a house this small, you can't afford to take a single square foot for granted.
My partner, Tom, and I both work in research administration at the University of California at Los Angeles; I recently completed a certificate for interior design and am in the midst of changing careers. We knew we could benefit from a secondary live-work area. We realized the garage could be it, and that transforming the space could be a rewarding project.
Hiring a general contractor with Sweeten
Knowing we would renovate the garage, we'd agreed it would have to be phase two. We made the first round of renovations out of sheer necessity after buying the house with a long list of structural and systemic issues. The experience of trying to line up dependable contractors had been stressful—even getting quotes. We'd hired the one contractor we could pin down. It was that experience that prompted us to work with Sweeten this time around.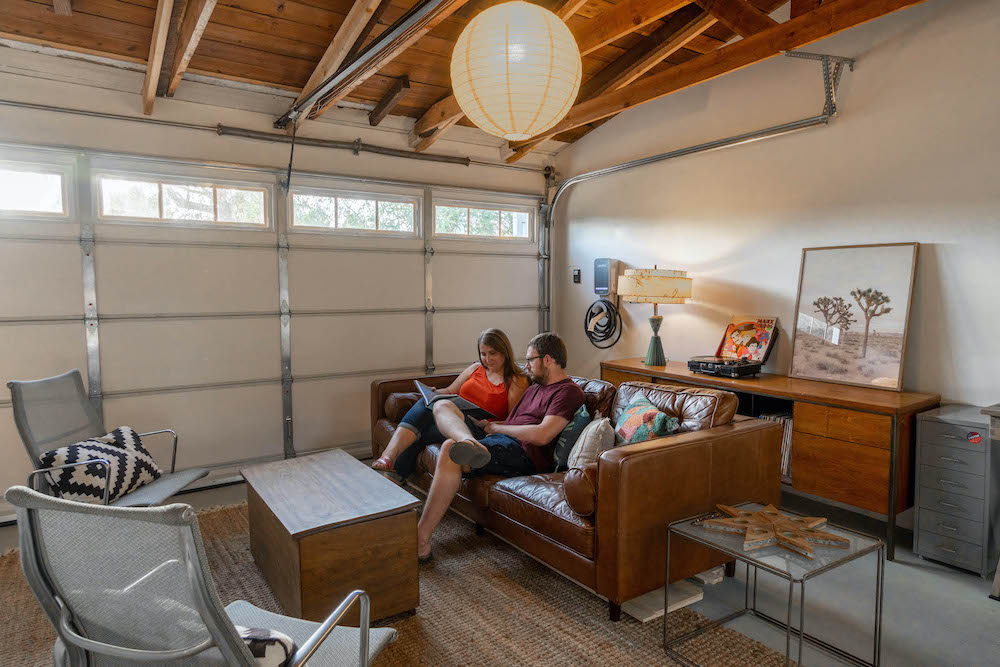 We renovated the garage when we did because we planned to sell the house. But working from home during Covid made us realize that room to spread out would benefit us while we still lived there. We posted our project and waited to see what contractors we'd match with.
Inspecting the garage's structure
The job wouldn't be easy. We needed to solve the garage's long-standing structural issues. The building was more than 80 years old; the roof had begun to sag and we were unsure of the extent of the damage. Perhaps the job would involve replacing the ceiling's support beams and installing a new door. Or it might require an entire rebuild. We needed someone to inspect the structure and advise us of what was needed.
Luckily, that wasn't as difficult as we anticipated. The Sweeten contractor we chose determined that the original beams had been too narrow, and spaced too far apart, to fully support the garage's ceiling. He also informed us that the two existing single-car garage doors were rotting away and termite-ridden. Our biggest question was, "Do we have enough money" to fix the problems? Turned out the answer was yes, and then some!
Creating a new living/working space in the garage
We had several goals beyond shoring up the garage. First, we wanted to replace the existing two one-car garage doors with a fully automated two-car door. Second, we needed to install a new outlet for plugging in our electric car charger. Finally, we sought to create a space that would be more than a storage area—as comfortable as our living room, but (because local building codes required it) still functional as a garage. No layout changes would be necessary.
We decided to give the space the look of a loft. We envisioned exposed wood beams lining the ceilings, crisp white walls, and a lot of natural light. In keeping with that aesthetic, we used a lot of the existing materials, including the wood ceiling beams (they are the actual structural supports that already existed with some additional wood reinforcing them) and the original concrete slab floor (we filled in cracks with a special cement caulk and painted it gray).
The walls looked so smooth for a dwelling built in 1936, that has been flexing and shifting with every earthquake for the last 80 years.
Custom doors for a small space
One big challenge was the garage door. We have discovered that with a small house comes the joy of everything being undersized and therefore not standard. Doors and windows had needed customization, and the garage door was no different—it was narrower than the norm. In addition, we discovered that the garage floor sloped, necessitating a custom panel on the bottom of the door that sloped side-to-side with the floor, ensuring a weatherproof seal. The panel, though surprisingly expensive, has been worth it.
The walls offered no straight lines, either, but our drywall installer was a true artist. The walls looked so smooth for a dwelling built in 1936, that has been flexing and shifting with every earthquake for the last 80 years. There wasn't a single straight, vertical wall, and some bowed or curved. The cabinetsprovided a good deal of storage and brought a domestic air to what might otherwise just feel like a garage. The countertop is an unfinished pine board and is, like the ceiling, a little rustic.
The right contractor, the right partner
Our Sweeten contractor had a clear communication style and was immensely helpful throughout the process. We could always count on him to respond promptly when we sent him a text or email. More often than not he'd call us back to talk via phone, which I appreciated. He kept us informed of when the subcontractors were going to be working and who specifically would be at our house. And best of all, he stayed on budget.
Our contractor was so good that we didn't need Sweeten's support too much. But it was nice to know that Sweeten was there if we needed them. It was like knowing you have an insurance policy in case of problems; you hope to never use it, but it gives you peace of mind knowing it's there.
The space in our new garage feels generous and comfortable, and the light inside is beautiful throughout the day because of all the windows. The built-in cabinets are attractive (the black pulls provide a nice contrast to the white and wood surfaces in the room) and also bring a ton of much-needed storage. Even though the garage is now a living space, we also needed to make sure there were attractive places to store things.
Thanks for sharing your new garage renovation story with us, Saima and Tom!
Renovation Materials
GARAGE RESOURCES: Garage doors: Garage Doors and Gates 4 Less. Windows: HD Supply. Paint in Chantilly Lace: Benjamin MooreSektion base cabinets with Haggeby doors; Nydala pulls in black; paper lantern with light kit light fixture: Ikea. Pine countertop: The Home Depot. Concrete/masonry sealer floor paint in Cape Cod Gray: Permaguard.
—
Sweeten handpicks the best general contractors to match each project's location, budget, scope, and style. Follow the blog, Sweeten Stories, for renovation ideas and inspiration and when you're ready to renovate, start your renovation with Sweeten
The post My Sweeten Story: A Loft-like Garage in LA Brightens Up appeared first on Sweeten.
Did you miss our previous article…
https://www.healthyhomewisconsin.com/?p=1968